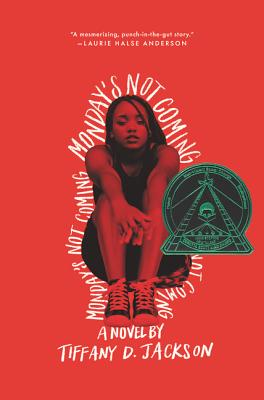 Monday's Not Coming
Publication Date:
May 22nd, 2018
Publisher:
Katherine Tegen Books
Usually Ships in 1 to 5 Days
Monday's Not Coming is a heartbreaking story of a missing teenager, a community that seems not to notice, and a best friend who will go to whatever lengths it takes to find her missing friend. Tiffany D. Jackson weaves together multiple timelines, increasing the tension and emotion until you reach an ending that will haunt you long after you finish the book. This is a difficult but important and timely story. Highly recommended for teen and adult readers.
Summer 2018 Kids Indie Next List
Description
"Jackson's characters and their heart-wrenching story linger long after the final page, urging readers to advocate for those who are disenfranchised and forgotten by society and the system." (Publishers Weekly, "An Anti-Racist Children's and YA Reading List")
From the critically acclaimed author of Allegedly, Tiffany D. Jackson, comes a gripping novel about the mystery of one teenage girl's disappearance and the traumatic effects of the truth.
Monday Charles is missing, and only Claudia seems to notice. Claudia and Monday have always been inseparable—more sisters than friends. So when Monday doesn't turn up for the first day of school, Claudia's worried.
When she doesn't show for the second day, or second week, Claudia knows that something is wrong. Monday wouldn't just leave her to endure tests and bullies alone. Not after last year's rumors and not with her grades on the line. Now Claudia needs her best—and only—friend more than ever. But Monday's mother refuses to give Claudia a straight answer, and Monday's sister April is even less help.
As Claudia digs deeper into her friend's disappearance, she discovers that no one seems to remember the last time they saw Monday. How can a teenage girl just vanish without anyone noticing that she's gone?
Praise for Monday's Not Coming
"A mesmerizing, punch-in-the-gut story about the power of friendship and the horrors hiding right in front of us." — Laurie Halse Anderson, author of Speak and Chains
"This thought-provoking thriller examines issues such as abuse, gentrification, and the marginalization of people of color with nuance and sensitivity. The narrative deftly moves back and forth between past and present, building to a devastating conclusion. A spellbinding, profoundly moving choice for YA collections." — School Library Journal (starred review)
"Jackson effortlessly weaves elements of suspense with issues of race, class, and gender, casting a harsh light on a world that often refuses to notice the disappearances of black and brown girls. The twist at the end is both gaspworthy and heartbreaking." — Bulletin of the Center for Children's Books (starred review)
"Jackson doesn't hold anything back when it comes to the pain of abuse and the ramifications of turning a blind eye. It's a frank, devastating read filled with real and flawed characters, and it's a story that needs to be read." — Booklist
"In addition to a gripping plot line, underlying social issues bubble beneath the surface, such as neighborhood gentrification, race, poverty, community, the healing of connection, and the destruction in disconnection." — The Horn Book
"The gravest, most fundamental challenge in Tiffany D. Jackson's devastating novel is leveled at a society that purports to value children while allowing untold numbers of them, particularly poor children and children of color, to fall through the cracks." — Chicago Tribune
PRAISE FOR ALLEGEDLY: ★ "With remarkable skill, Jackson offers an unflinching portrayal of the raw social outcomes when youth are entrapped in a vicious cycle of nonparenting and are sent spiraling down the prison-for-profit pipeline. Dark, suspenseful." — School Library Journal (starred review)
★ "Her novel effectively joins Ava DuVernay's documentary 13th and Michelle Alexander's The New Jim Crow (2010) to become another indictment of the penal system's decimating power beyond its bars and, more subtly and refreshingly, a pro-reproductive-justice novel. Searing and true." — Kirkus Reviews (starred review)
★ "The characters are complex, the situation unsettling, and the line between right and wrong hopelessly blurred. It's also intensely relevant, addressing race, age, and mental illness within the criminal justice system. Well conceived and executed, this is an absorbing and exceptional first novel." — Publishers Weekly (starred review)
★ "Suspenseful without being emotionally manipulative, compelling without resorting to shock value, this is a tightly spun debut that wrestles with many intense ideas and ends with a knife twist that will send readers racing back to the beginning again." — Booklist (starred review)
"Seen through Jackson's dark portrait of the legal system and the failures of parents and social workers, Mary's environments are as grim as the stories that play out in them; readers fascinated by procedural dramas will be thoroughly hooked." — Bulletin of the Center for Children's Books
"A well-executed, powerful journey into the claustrophobic life of a young girl trying to navigate what little is left after the world has judged her, and what she will do to escape it." — Mindy McGinnis, Edgar Award-winning author of A Madness So Discreet
"A riveting, gut-wrenching thriller and a stunning debut." — Daniel José Older, New York Times bestselling author of Shadowshaper 
"Tiffany Jackson's timely and chilling debut will haunt you for a long time. An extraordinary new voice." — Justine Larbalestier, author of Liar and My Sister Rosa